Chargé D'Affaires Davis Ba Remarks at Launch Ceremony of "Training Judicial Actors" Ceremony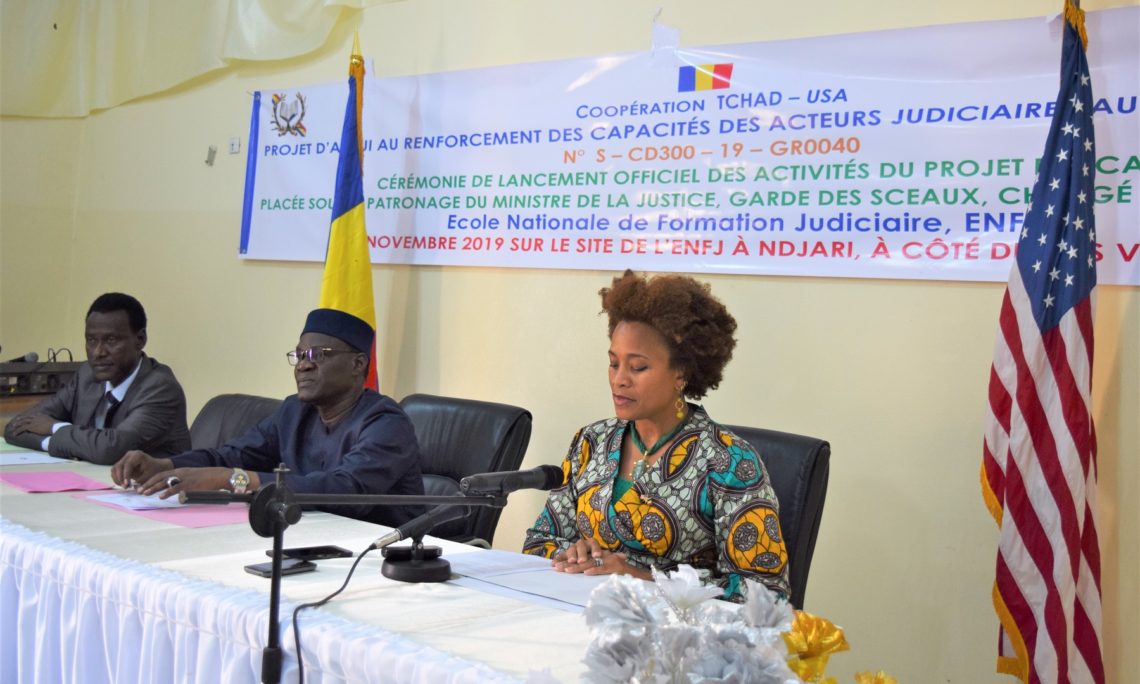 November 20, 2019
Honored members of the judiciary, Minister of Justice Arabi, excellencies, ladies and gentlemen of the courts, good morning. Today we stand at the threshold of a new opportunity that will demonstrate what can be accomplished when nations work together in a shared commitment to the rule of law. Of course, we are only at the beginning of this program, but the outcome will be a renewed commitment to fight corruption, increase judicial transparency, and enable the justice sector to become more accountable to the Chadian people it serves.
It is this idea of service—to our fellow citizens, to the rule of law, to the ideals of justice that makes America great—which is so deeply ingrained in our judiciary. Judges and lawyers there are esteemed—not for their power–but for their integrity and their commitments to the poor and downtrodden.
In my few weeks here, I have already seen that same proud tradition of service in the judiciary of Chad. Only last week, the American Embassy hosted an anti-human trafficking conference for police, magistrates, and judges at which I witnessed an enthusiastic justice sector sharing ideas and working together to make the Chadian judiciary an even stronger champion of justice. Maybe some of you were there? We look forward to continuing this dialogue on human trafficking with the Chadian judiciary and hope we will soon hear of successful prosecutions under the new anti-trafficking law.
I have also learned of dozens of Chadians participating in Embassy-sponsored terrorist investigation training over the last several years; Police and magistrates who partner with American Department of Justice experts to learn how to investigate, try, and convict those who would attack the citizens of Chad. In an age when so many innocent people—in both Chad and the United States—have been affected by terrorism, surely there is no greater example than the justice officials in both our nations who serve to protect their own citizens from violence?
The program we launch today will identify needs and further equip participants for the calling of service ahead. But no program will solve all a nation's criminal problems. When faced with too few resources, when confronted by overwhelming odds, I think of the Chadians I met working for human rights in non-governmental organizations. Some of them are lawyers or former magistrates like you, and some of them simply concerned mothers and fathers without your education or position. They are people who inspire me with their commitment to serve their fellow Chadians and make the world a more equitable and just place despite lack of funding, staff, or external support. Armed with their integrity, these people surmount overwhelming odds every day in fighting to make this nation a more just place. It is an inspirational example I have shared with my diplomatic colleagues in the United States of what the people of Chad are capable of doing when they work together in a shared spirit of service.
Ladies and gentlemen, this nation has endured many hardships, and from that experience I have witnessed many Chadians working together to serve their country and make it a nation of justice. As a partner, and as a friend, the United States is committed to building that future together. I am grateful for the opportunity of this program, and thank the Minister and all of you for making that commitment with us for a brighter and more just Chad. Thank you, and good luck.